That;s right, we have an exclusive Jonas Bros prize thanks to our friends at Universal Music!
To celebrate the release of the Jonas brothers 3-D movie, we have an exclusive glossy photo hand autographed by the Brothers themselves.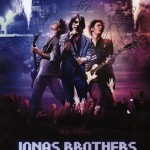 You can win this valuable gem by sending us an email to info (at) the rock star stories.com and telling us what the name of the movie is and if you went to see it yet.
One email will be chosen at random. The photo will be awarded on March 31 and mailed to the winner.