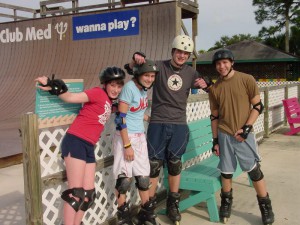 All About Us
Swept Away Media is a not for profit youth media organization 501(c)(3) that trains and mentors media artists, producers and enthusiasts who are interested in learning and experiencing all types of media skills from the visual to the media production arts in a real-world setting..
We teach all types of media production skills and mentor students from at risk and other teen and young adult groups.  Our aim is to bring media production knowledge and experience to all young people everywhere.
Swept Away TV aired on cable, community and educational television from 2001 through 2011.  This year members created segments to air on their own school cable systems.  Many of our student television stations are members of FSPA.  You may participate via skype from wherever you live however we are located in South Florida, USA.  You may earn community service hours for your participation.  
This will be our 16th season on the air and completely online.
All fees earned help sustain Swept Away TV and Swept Away media outreach activities.
Some of our other services include: Guerilla Marketing, Street Team,High School Sampling, & College Sampling and social media services.
We authentically promote movies, video game Releases, product Launches, Music Releases all at prices to fit all budgets.
We have 15 years of experience with products likes Paramount Films, Icebreakers Gum, Universal Music, Sony Pictures, XBOX, Sony Playstation2 and many more.
Looking forward to many more successful years!
The cast and crew of Swept Away TV
You can also check out Off the Bus and On the Record which is a book based on interviews from the shows.  Also available on Amazon.com.