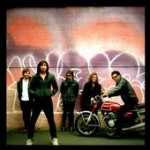 This Sunday March 1  The Take Action Tour press Conference at Revolution Ft. Lauderdale  3pm.  Features Cute is what we Aim for, Breathe Carolina, Anarbor, Meg and Dia and Every Avenue.  Free, does not include show admission.
Friday March 6th Flogging Molly Press Conference 4:15 Pompano Beach Amphitheater.  Open to all student journalists with invitation (info (at) the rock star stories.com).
March 20th EMPIRES (from Chicago) FREE SHOW  FAU Residence Hall Lawn.  6:30pm.  Battle of the Bands going on all afternoon.  Coming See Empires!  We love them.  You can check them out here .
Download their cd HOWL for free too.
Coming up April 21 is the Fall out Boy Show at Mizner Park.  We'll be having a press conference for this one too-limit 2 per school due to space consideration. 
See you all on Sunday!