A Review of "FOUND" by PUSH PLAY
by Matt Glodz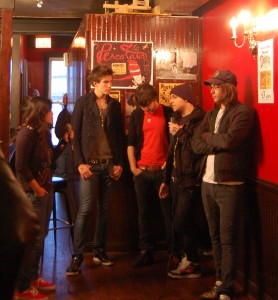 The Jonas Brothers have some new competition: Push Play. Hailing from Long Island, the quartet is yet another addition to the boy bands that are starting to make a comeback on the music scene. Push Play's new album "Found" brings listeners what they expect from a boy band, but is unique enough to keep their fan base growing.
"Our individual personalities really click," lead singer CJ Baran says on Push Play's website, "and the fact that the four of us have distinct tastes in music, it seems to really work."
Baran's observation is right on point – Push Play's music ranges from upbeat to somber, and the lyrics follow suit.
It makes sense that "Midnight Romeo" is the album's first single. The song is energetic, its lyrics flow well, and teenagers are likely to dig its scandalous content. "Show me yours and I'll show you mine / Gonna make you sweat / Gonna feel you head to toe / You know, I'm your midnight Romeo," Baran sings. "Midnight Romeo" is the most stereotypical mainstream boy band song on the album, and it is likely to hit the airwaves soon as a result.
In "Heart Attack," Baran sings about walking in on his girl making out with another guy and the event's aftermath. Its lyrics lack depth as far as content is concerned, but for a breakup song, it is quite upbeat and catchy.
As its title may suggest "This Is Us Breaking Up" is another breakup song. Its frequently changing tempo and melody that incorporates futuristic synthesized sounds keep it from sounding sad and depressing, and also set it apart from "Heart Attack." While the two songs share a similar theme, they are by no means redundant musically.
"Where I Belong" is one of Push Play's more somber songs, but it is one many high school seniors can relate to. "The days we spent together / The nights would last forever
/ But all good things must come to an end," Baran sings. The song is reflective and has the slowest melody on the album, yet Push Play still pulls it off, showing their musical versatility.
The remainder of the album does not disappoint. "Found" is also one of those albums that can be listened to straight through from start to finish, so grab a copy and Push Play.