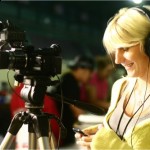 To be an intern for Fall 2010 you must meet the following requirements:  These apply to new interns only.
1.  Be enrolled in tv production and be able to access equipment at school or have your own.
2.  Be 16 and up and be able to drive.
3.  Be able to shoot and edit your own stories.
We have no one to edit interviews these season so you must able to do it yourself.    Please do not apply unless you meet these qualifications.  If this sounds like you, send an email to info@therockstarstories.com.    We can use writers who want to write reviews but they will not be the ones doing interviews.  Interviews must be done by experienced students who are taking video production classes in school.