A Fan Event from the Paramount Pictures Lot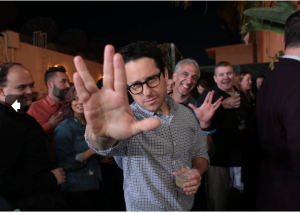 Above: JJ Abrams 
Last night Mythbuster's Adam Savage hosted a Q&A with J.J. Abrams, Justin Lin, Chris Pine, Karl Urban & Zachary Quinto on Stage 31 where Star Trek was filmed between 1966 and 1969. The Q&A was followed by a street naming ceremony in honor of Leonard Nimoy. Following the ceremony fans were shown the new trailer and never before seen footage from the film.
Here's the trailer released yesterday:
"Star Trek Beyond," the highly anticipated next installment in the globally popular Star Trek franchise, created by Gene Roddenberry and reintroduced by J.J. Abrams in 2009, returns with director Justin Lin ("The Fast and the Furious" franchise) at the helm of this epic voyage of the U.S.S. Enterprise and her intrepid crew. In "Beyond," the Enterprise crew explores the furthest reaches of uncharted space, where they encounter a mysterious new enemy who puts them and everything the Federation stands for to the test.
Are you a Star Trek fan?  Let us know if you can't wait for this film.