I share this so everyone can see that even the most experienced filmmaker with a huge budget sometimes has to cheat a little.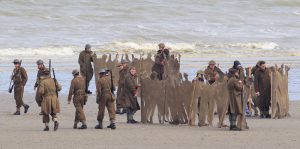 Filming has begun on the Christopher Nolan-directed World War II movie Dunkirk in the exact spot in France where, 76 years ago this week, 100,000 soldiers were evacuated. Here is your first look at Dunkirk set photos, featuring warships circling off the coast to add war-like atmosphere while cast members hold up cutouts of soldiers to create the illusion of more people in battle.
I'm trying to imagine how that is going to look but like all Christopher Nolan's movies probably perfect.
via comingsoon.net