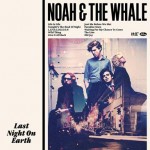 Enter info@sweptawaytv.com to win an autographed CD booklet from Noah and the Whale!  Two random winners will chosen on 4-15-11!
The London band Noah and the Whale are set to release their third album, Last Night On Earth, on March 15h via Island Def Jam. The band's first album since 2009 will feature ten brand new tracks, including the infectiously melodic first single "L.I.F.E.G.O.E.S.O.N."
Lead singer Charlie Fink set to work on the album in January of 2010, holed up in a synagogue in East London. Beginning with a few melodic fragments, a sketch for a 10-minute song that resembled Lou Reed's classic "Street Hassle," and a set of lyrics that were begun on a train from Wales to London, something special eventually came into focus, something markedly different from the songs the band had written before.
The continued maturation of Noah and the Whale has been a pleasing thing to follow — from the joyous burst of their debut, Peaceful, the World Lays Me Down, through the lovelorn sobriety of The First Days of Spring, it now reaches a kind of fruition on Last Night on Earth.
Last Night On Earth was co-produced by lead singer Charlie Fink and Jason Lader [Julian Casablancas, The Mars Volta] in Los Angeles. The album features backing vocals by Jen Turner from Here We Go Magic and gospel vocals by the legendary Waters Sisters, who famously provided backing vocals for Michael Jackson's untouchable hit "Wanna Be Starting Something." Elsewhere, the record features Adam MacDougall of The Black Crowes on Moog and Rhodes, and legendary percussionist Lenny Castro.
Fink notes that the album has a strong cinematic element to it, influenced by Fink's experience of directing the short film that accompanied The First Days of Spring. "Film is such a different writing process, it infiltrates the way I write songs," he explains. "And a lot of them I imagined as scenes — 'Tonight's the Kind of Night' I imagined as this guy running away from home and getting on a bus…"
Fink also notes that the lyrics of the album were heavily influenced by poetry. Last year, he read the work of Frank O'Hara for the first time, falling in love with the poem Having A Coke With You. Speaking of new song "Just Me Before We Met," Fink notes "I wanted [that song] to have a feel of that, or a tempo. Just the notion of it. Having A Coke With You is I think a very romantic poem, and that's the only outwardly romantic song on the album, and so I wanted it to have the same approach."
The album's title is also a nod towards Charles Bukowski's poetry collection The Last Night of the Earth — Fink says he was attracted to the sense of "loser's pride" in Bukowski's work. "In my head," he says, "there is a link between Lou Reed's Berlin, and Bukowski's poetry." The track "Life Is Life" is another Bukowski reference, its title tipping a hat to his poem The Laughing Heart — a poem whose final lines seem to sum up this record quite perfectly: "Your life is your life," it runs. "Know it while you have it. You are marvelous. The Gods wait to delight in you."
Last Night On Earth Track Listing
1. Life is Life
2. Tonight's The Kind of Night
3. L.I.F.E.G.O.E.S.O.N
4. Wild Thing
5. Give It All Back
6. Just Before We Met
7. Paradise Stars
8. Waiting For My Chance To Come
9. The Line
10. Old Joy
Upcoming tour dates:
Mar 15 Los Angeles, CA @ The Troubadour
Mar 21 New York, NY @ Bowery Ballroom
Mar 22 New York, NY @ Bowery Ballroom
www.facebook.com/NoahAndTheWhale
www.myspace.com/NoahAndTheWhale