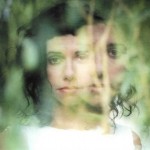 PJ Harvey & John Parish, "A Woman A Man Walked By"
A Review by Sami Ponoroff
PJ Harvey, never ceasing to amaze her fans, will be releasing another unforgettable album on April 30th. The album, titled 'A Woman A Man Walked By,' features Harvey's long time friend and band mate, John Parish, who has worked with Harvey since her entrance into the musical world in the early '80s. After decades of working together, with some records here and there, Harvey and Parish have collaborated once again to make this sensational album.
Though the first song may not be an adrenaline boost, it in no way fails to make you want to dance: Black Hearted Love softens you up with almost a minute of instrumentals, followed by dark-sounding lyrics and melodies. And as the CD progresses, unlike the majority being sold now-a-days, it continues to be different. 'A Woman A Man Walked By' could even be mistaken for another artist because it sounds like nothing Harvey has done before.
As the CD progresses and you listen to tracks five to eight you will feel the intensity build. A Woman A Man Walked By, The Soldier, and Pigs Will Not are truly moving. Their raw, dark, and insightful vigor flashes an uncut black-and-white documentary of angry youths destroying everything in their paths into your mind. And as Pigs Will Not ends, so does that feeling. The end of the CD calms the listener down with mellow tones and instruments, like the ukulele.
Harvey and Parish have proven once again that they are here for the long haul. In an industry full of one-hit-wonders and trendy sounds, they display in their seemingly effortless cool in a timeless manner. This is a CD you should definitely invest in.