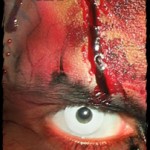 For a scary good time with your friends  check out Fright Nights at the Fairgrounds in West Palm Beach.    Opening NIght is Thursday October 14th (Zac's Birthday!)
It's open 6-11pm Thursday nights and 6-midnight on Friday and Saturday nights, Sunday nights are 6-11pm.
The haunted houses are sick…you will be scared I promise.
Take a picture and let us know which house you liked the best.
For more info, check it out here.  Enter to win a pair of tickets for Thursday OCtober 14th by sending an email to info@therockstarstories.com.  Include your name and contact phone number.  All tickets will be awarded on October 10th.