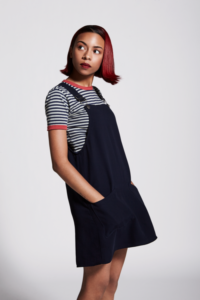 Written by: Aubrey V
Seventeen year old, Ravyn Lenae, is on her way to making a name for herself as a singer. She blends the genres, Hip Hop, Soul, Electronic, and R&B, together to create a perfect melody with her master vocals. After releasing one successful single "Greetings," she continues to create impressive songs that introduce a new style to the world.
Growing up on the south side of Chicago, Lenae began playing the guitar and piano in elementary school. Her musical influences include, Timbaland, OutKast, Eminem and Erykah Badu. Later, she decided to become a singer, which lead her to attend an art school. While in school, she joined forces with producer, Monte Booker, and rapper, Smino, to create a local music group called Zero Fatigue.
Her first single, "Greetings," produced by Oz, become a big hit over in the south side of Chicago. It has achieved over 100,000 listens and 3,000 likes on Soundcloud. The music video, shot by AZaeProduction, came out over a year ago, and received more than 100,000 views on Youtube.
After releasing her first single, record labels started to pay attention to Lenae. She took a specific interest in Lyrical Eyes Management. A company that has previously managed, Tink, Lil Durk, Candace Price, and more. She signed with Three Twenty Three Music Group, an independent record label that coincides with LEM.
Lenae has received recognition for her first song. She was named Verzion's Big Break Artist on WGCI in Chicago. Also, she was mentioned on BBC Radio's New Names of 2016. Besides that, she has performed across the country and headlined for shows including, Atlanta's A3C, Chicago's House of Blues, and performed at African Fest in Chicago.
Later, she released many songs with different artists, including, "Blossom Dearie," which was produced by her fellow Zero Fatigue member, Monte Booker. "Blossom Dearie," received more than twice the amount of listens and likes on Soundcloud compared to Lenae's first single, "Greetings." "Blossom Dearie," and "Greetings," both appeared on her EP titled, Moon Shoes.
In August 2015, Lenae debuted her EP titled, Moon Shoes. The EP premiered on My Mixtapes and Lake Shore Drive, with an overcoming success. Her EP introduces eight tracks that will be released on her completed album, Moon Shoes. These tracks include, "Venezuela Trains," "Moon Shoes," "Blossom Dearie," "Recess," "Free Room," "Sleep Talking," "Greeting," and "Everything Above". The producers on the album include, Monte Booker, Oz, Keyzus, and more. The EP has over one million listens on Soundcloud.
Her album, Moon Shoes, will feature two new songs, "Right of Spring," and "Something In The Air". The album mixes unique instruments that flow together to make a smooth tone. The vocals are amazingly sung and gives each song an eery vibe.
Ravyn Lenae is a talented singer with a bright, successful future ahead of her. Her mixture of genres and amazing vocals will certainly make her stand out compared to the other artists. Her album, Moon Shoes, available on July 29th at all DSPs, will definitely show her talent. Go buy her album and see why everyone is talking so highly about Ravyn Lenae.
Written by: Aubrey V