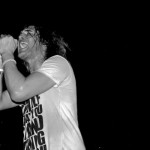 Another amazing student press conference will be held at Revolution Live
200 West Broward Blvd. in Fort Lauderdale with the bands of The Take Action Tour.
The 2009 lineup will feature headliner CUTE IS WHAT WE AIM FOR, along with MEG & DIA, BREATHE CAROLINA, EVERY AVENUE, and ANARBOR.
The annual nationwide charity tour, now in its eighth year, raises funds and awareness for youth involvement in charitable action, and for the second straight year Take Action has chosen not-for-profit organization DoSomething.org to benefit from the funds raised and to help spread the message of action to young people across the country.
The press conference will be from 3:00 until 5:00pm at the venue upstairs on the balcony.
To RSVP email us at sweptawaytv  (at)  bellsouth.net.  All students with an interest in journalism are invited to attend.