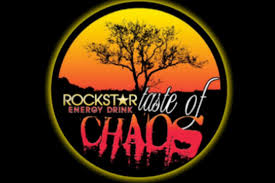 RETURNS TO SAN MANUEL AMPHITHEATER FESTIVAL GROUNDS IN SAN BERNARDINO, CA
SATURDAY, JULY 16
The extraordinary lineup for Rockstar Energy Drink Taste Of Chaos 2016–produced by SGE, 4Fini and Live Nation–includes Dashboard Confessional, Taking Back Sunday, Quicksand, The Get Up Kids, The Starting Line, Saosin (fronted by original vocalist Anthony Green), Senses Fail, The Early November, The Anniversary, Hot Rod Circuit, and Reggie and the Full Effect, with more information to be announced.
Dashboard Confessional's Chris Carrabba says, "I am so happy to know fans are excited about this lineup, but I know I am the MOST excited. Dashboard Confessional gets to play for our favorite people WITH our favorite people. I cannot imagine a better way to spend the summer."
Taking Back Sunday collectively adds, "…it's going to be good to be back in the company of so many bands we are both friends with and fans of."
All tickets for the Rockstar Energy Drink Taste Of Chaos Festival are General Admission open seating, and go on sale Friday, April 1 at 10:00 AM PT at www.festival.tasteofchaos.com. There will be an extremely limited amount of early bird general admission tickets starting at only $25. The regular on-sale price will be $42.50. Prices do not include ticket service fees or parking.