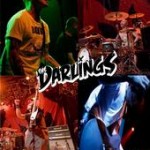 the Darlings' review by Sami Ponoroff
If you're into alternative or punk-rock do not hesitate to buy the Darling's self-titled EP. Drawing inspiration from the times of Nirvana, the CD is jam-packed with whole-hearted, head-banging, pure energy.
Seeing no need for an introduction, the Darlings begin their CD with 'Captivated,' a song so upbeat it thrusts the thoughts of mosh pits and head banging into the listeners' mind. Each song sounds nothing like the others, forcing you to wonder–what will the Darlings do next?
As they make their way into the music scene, the Darlings leave a positive and lasting impression on the people who matter the most–their fans. These die hard fans, tens-of-thousands on the band's personal myspace page, have truly shown their support. You can check them out at 
www.myspace.com/thedarlings
, or buy their self-titled EP on iTunes.