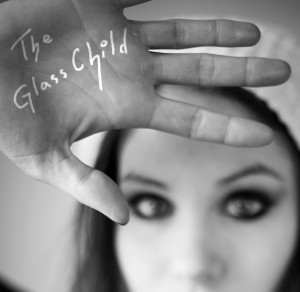 Interview With The Glass Child
By: Kelsey Janser
Charlotte Eriksson, also known as The Glass Child, is a beautiful young woman overflowing with spirit and dedication to share her songs with the world. She was born in Sweden, but at the age of 18, took off to London to pursue her passion in music. The road she has traveled has been perilous and hectic, as the struggles she encountered clearly resonate from her powerful songs. The music she writes is the type that grabs you not only physically, but emotionally as well. I was fortunate enough to interview this musical inspiration and uncover more about her past experiences that have shaped her into the star I know she will one day become.
How and when did you get the name, The Glass Child? How does it represent you as an artist and also as a person?
When I was younger I had a hard time trusting people. I couldn't figure out how to trust friends and let them get to know me and I always had a feeling that people were making fun of me. This made me very distant and people always said that it was as if I was living behind glass, like they could see me but never really reach me. I've always felt very strong in my head, when I find something I want I fight until I get there, but at the same time I've always been very easily broken by other people's words and opinions. The first song I ever wrote was called "The Glass Child" and it was about this, and it always reminds me of why I started to write music in the first place – to comfort myself and figure out my own place.
Who was your musical inspiration growing up?
I've always listened to bands like Counting Crows, Ben Harper, Brand New, Ani Difranco and Bright Eyes. Songwriters who can turn the most ordinary or ugly feeling into something beautiful by finding the right word to the right melody with the right voice. But I'm also very influenced by literature, philosophy, poetry and other art-forms like dancers.
How old were you when you started singing? Writing songs?
I kind of started to write music before I started to sing. I've always been writing stories and just writings, but when I discovered music and how it made me feel like I belonged I just used my voice as a way to express my words and writings. A bit later I got really serious about singing though and when I was 17 I decided that I wanted to build my life on music. That year I did vocal-practice for hours every day…
When and how did you discover music was your passion?
I was probably around 15 when I discovered music. I never took any lessons and my family was never into music, so when I discovered it all on my own it became this secret escape. It became my hiding-place, where I could go and just forget about everything. It took a long time until I showed anyone my songs but I knew right away that I wanted to spend my life creating that feeling that I got from listening to music.
How long does it take for you to write a song? What normally comes first, the lyrics or the melody?
It's different for every single song really. There's no formula or theory behind it and that's the magical thing. It's supposed to be like that because if you could "explain" inspiration or creativity it would lose the magic. Sometimes I write the lyrics on the bus home and then I just sit down with a guitar and sing them when I come home. Other times I start with a drum-beat and build the whole music arrangement and then write the lyrics as the last element. When I'm finally in that creative higher space it takes like 5 or 10 min to actually write the song, but then the sound and how I want to sing it etc. is something I work and develop for a long time after.
What is a "normal" day like for you?
No day is the same really, which is why I love doing this. I have so many passions and things I want to learn and I'm trying to take time for it all. Now these last months I've spent all my time getting my album finished. It's so much work and it takes so much time since it's like my own heart and I want it to be exactly how I see and hear it in my head. Then after that I spent some weeks doing the promotion for the album. Since I'm completely independent I'm doing all the promotion and marketing myself, so it's quite time-consuming, but I enjoy the whole marketing-process too and it's an amazing feeling to have so much control over my career and music. I'm also writing something every single day, both music and other creative writings like prose, short-stories or poetry. It's my way to keep my head clean, and I'm also spending a lot of time writing on my different book-ideas. I always have a plan and a list of what I need and want to do when I wake up in the morning, but during the day I always explore and find new things that lead me to new ideas, projects, songs or people so every day is like a new possibility to grow and learn which is why I love this.
What is your favorite song you've written?
I'd Like To Remain A Mystery. It's just everything I am.
To learn more about The Glass Child, please visit the official site:
http://www.theGlassChildOfficial.com