from USA Weekend February 1-3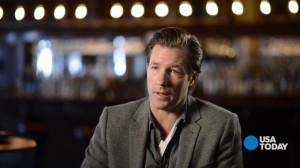 Edward Burns (Saving Private Ryan, She's the One) specializes in making personal, low-budget movies that at one time would have played in art theaters. Now, he premieres his films online — on Apple's iTunes, Amazon and cable video-on-demand services.
Digital profits. Burns produced 2011's Newlyweds for $9,000 using a Canon 5D Mark II and three lenses: 24mm, 50mm and 85mm. Even with the smaller digital audience, his backers did well. "Everybody who worked on the film got checks that blew their minds."
Marketing films via Twitter. "Marketing for films has changed forever because you don't need to spend money." Tips: "You have to be tireless and engage with (followers) in a real way. … You want them to become your fans and fight the good fight on your behalf. If you only have eight followers, they will tell their friends, and you can get that up to 100 for your next film."
His gear. He uses the same Canon 5D SLR for his kids' activities — "everything else is on the iPhone." For video, he shoots only on the iPhone and imports clips and edits them in iMovie on the Mac.