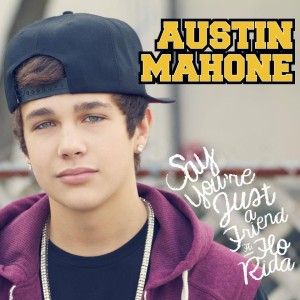 Austin Mahone: Say You're Just A Friend
Reviewed By: Lexi Segal
From the streets of La Vernia, Texas, to becoming a huge YouTube star, the 16-year-old boy has begun his big break to stardom. His first single, Say You're Just A Friend featuring FloRida, was released December 3rd, 2012. This new teen sensation is the one and only Austin Mahone.
Austin Mahone was just like any other child. He went to school, got good grades, and loved music. Alex, Austin's best friend, started a YouTube channel together called "Shoot Us Down" where they uploaded videos of Austin's covers. His first recordings were remakes of top songs. He covered all different artists, including Justin Bieber. In 2011 Austin covered Justin's Mistletoe, with more views in a week than Bieber himself.
Say You're Just A Friend, a catchy, rhythmic song that was perfect for music video entertaining. Austin described it as "an up-beat song that you can party to." The music video is colorful, action packed, and has terrific choreography that makes you want to get up and dance. His body language and facial expressions convinces the viewer that he truly wants the beautiful girl to be more than "just a friend." The true meaning of his hit song, explores an issue that all teen boys experience at one time or another. Austin wants one of his friends to be more than that but he doesn't want to ruin their friendship. The music video depicts how Austin will get the girl and wow her and his fans at the same time.
By far the best part about this video is Austin's dancing skills. He showed, through his dance moves, that he is talented, not just another pretty face. Looking forward to listen to his upcoming album being released in the near future.