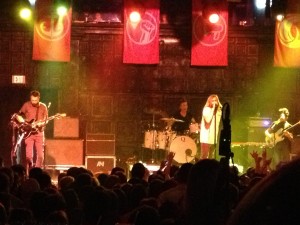 "All I need, all all I need"…. is to keep listening to AWOLNATION. March 15 marks the electronic rock band's performance at Revolution Live in Ft. Lauderdale on their 2013 spring tour with special guests Mother Mother and Blondfire.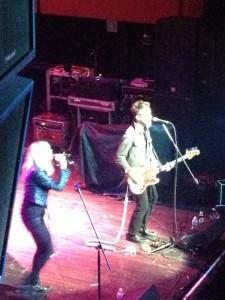 Mother Mother is an indie rock band from Canada that began its career in 2005. The band consists of five members, the lead singer and guitarist being Ryan Guldemond. Their fourth album, titled The Sticks, was released in late 2012. This was the first band to perform, and although the singers were at times difficult to understand, the songs had catchy melodies with a wide range of instruments and the members of the group were entertaining to watch.
After Mother Mother pumped up the crowd for the next set, Blondfire took the stage with even more vigor than its predecessor. Blondfire's genre is indie pop, with the music written and produced by the brother and sister duo Bruce and Erica. The lead singer, Erica, had a strong, passionate voice and the band had lots of chemistry together.
The songs got the crowd excited and anxious for the next performance, and after a seemingly endless intermission, the curtains parted to introduce AWOLNATION and a phenomenal light show. The lead singer, Aaron Bruno, had an uncontrollable spirit and a hunger for music and entertainment. His voice was pure yet somehow raw and untamable that coupled perfectly with the rhythm and lyrics to each song. He kept the audience captivated with his ludicrous dance moves, and when he got lost in the music, so did everyone else. Although the band has only been together since 2009, they had a deep connection with one another and played incredible together. All three bands complemented each other and kept the audience enthralled.