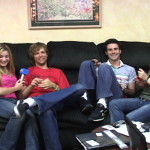 Welcome back everyone!
We will hold our first organizational meeting of 2013 on Saturday January 5th at 2pm. Email me (nrich@sweptawaytv.com) for the exact location.
We will have four teams this semester: Mainstream Team, Sports Team, Left of Center (all non-mainstream events and artists), and News/Public Interest. We are looking for team members to write, edit, direct, film and produce segments for our new weekly broadcast. We also need a stylist and hair/makeup person who will be responsible for the look and feel of the cast.
If you are not in the South Florida area, we welcome your contributions written or filmed and edited. Segments are no longer than 2 minutes and have an opening and closing and are in .mov format. Contact me and I will give you instructions how to upload to our ftp site.
Let's get started!