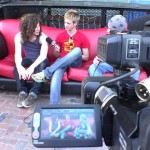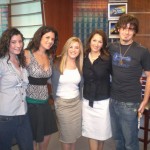 Before they graced the covers of magazines, adorned the bedroom walls of fans, and played sold out arenas, they were interviewed by
The Rock Star Stories
. For nine seasons, television show
The Rock Star Stories
has interviewed over 200 of the biggest names in the music industry. After a decade of crazy encounters and experiences, it's the cast's turn to tell their rock star stories.
Off the Bus and On the Record
is a compilation of 22 interviews conducted over the past seasons, told from fresh perspective of the teens who encountered these musicians first-hand.
Off the Bus
gives readers a candid look into beloved bands, both on and off the camera. The book features interviews from everyone, including My Chemical Romance, Fall Out Boy, Jack's Mannequin, and Maroon 5. With a foreword written by famed editor Aaron Burgess,
Off the Bus and On the Record
is a must for any true music lover.