by Diana Ciuca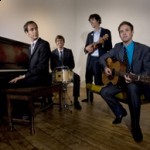 The 88 is "new, fresh, modern" band as described by the keyboard player, Adam Merrin. My interview with him provided descriptive information about where the band has been and where it's heading. With outstanding appeal along with a strong Californian foundation, The 88 keeps rising to success.

From the Los Angeles region, Adam Merrin described the band's hometown as being an "upper-middle" area which influenced the band's music, since most environments tend to have an impact on the overall tone of a band. The two founding members, Keith and Adam both met in high school due to their common affinity for music. Adam remembers the "day that changed [his] life." He recalled the idea of starting a band as a haphazardly recommendation friend. Nevertheless, Keith and Adam later tried to record a song that they wrote at a party, as that's when the band finally took off as less of a concept and more of a possibility.The feeling of their first session of playing together – Keith's great voice and Adam's guitar talents – really had them saying "this is it," as if being in a band was what they were meant to be doing. Although the band (formerly titled The Freeloaders) had no real direction or "financial motives," their mutual passion for music and spirit of hard work helped lead to future success.

As every band knows, the members will suffer a few struggles, especially with the passage of time. Adam recalls how two of the foremost band members left and were succeeded. "Carlos was on the band for 13 years," Adam mentioned, so it was tough when he left. Carlos was the former bass player who left because touring was taking a toll on the amount time he spent with the members of his other family – his wife and kids. As Adam illustrates it, the band members had always had a real family feel or closeness; He describes by mentioning that "it was difficult even leaving for a weekend" without being heartbroken. Brandon was also a former member of the band but moved on to a more Hollywood career and is featured in the HBO hit Weeds. The 88 actually has a hit on the soundtrack of Weeds along with many other hit TV shows like Grey's Anatomy and The OC.

Being in LA is definitely a "great starting place," as Adam puts it. It really aided in getting the band spots on radio stations and even live performances like on The Late Show and Jimmy Kimmel Live. This helped "spread their music" and commercial success. Bands like The Beatles and The Band are huge influences on The 88. They've also toured with big names like the Smashing Pumpkins and one of Adam's personal favorites, The B-52's on the east coast and Matt Costa on a Canadian tour. Adam mentioned these last two as being some highlights of his musical career. Nevertheless, the band, known for their energetic shows, put effort into every show. Adam expresses the 88's shows as if every time they go on, they "try and make it the best show ever." "We show fun when we're doing it, we're not too serious (not on stage at least)," he comments, "but we are very serious about the music we make." When asked if Adam considers the band "indie," he replies, "oh yeah, because we do everything ourselves; it's how we survive as a band." Their dedication and hard work is clearly evident, especially in their varied music that merits to fit under a broad genre.

With possible plans of a tour to Europe and elsewhere, this band, 19 years in the making, sees no plans for retiring. "I cannot see myself doing anything not music related," Adam remarks. This is the general ideology of all the band members. Music is foremost. "Writing, practicing and preforming" is what The 88 does best. "We work hard and keep doing what we're doing, " Adam summarizes and adds, "we're lucky and blessed." A truly appreciative band that deserves the appreciate of fans everywhere, the 88 is a band who continues to thrive since they "open to doing something different because there's always something new."

To find out more, check out their website: www.the88.net; their myspace: www.myspace.com/the88, and even their twitter: twitter.com/the88