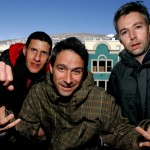 The Beastie Boys are an american hip-hop trio from New York City. It's members contain Michael Diamond (Mike D), Adam Yauch (MCA), and Adam Horovitz (Ad-Rock). Mike D plays the drums, MCA plays the bass, and Ad-Rock plays the guitar. They have been around since 1979, and started out as a harcore punk band.
Over the years, they have became more into the hip-hop genre of music. They have just released a new song this summer, called "Don't Play No Game That I Can't Win. It is a very good song, in my opinion, but it is for a special listener. I know for a fact if i asked my relatives to listen to this song, they wouldn't like it, because they are simply not used to listening to this type of music.
The Beastie Boys are very special in that they can rap, sing, and play instruments while all mesh to make fantastic songs. The music video for this also shows an episodic of action figures. It is probably one of the coolest music videos i've ever seen. Although the beastie boys aren't on the radio that often anymore, they are still an extremely popular music group, and have received an extravagant amount of awards for their music, which consist of: best rap performance; best hard rock performance; best alternative performance;best rap album;best pop instrumental; etc.
As you can see, they produce all different types and kinds of genres in the music industry, and i would like to see even more out of this very talented group!