y-100 Jingle Ball 2011 by Ben Pawliger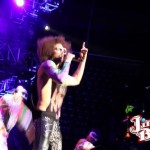 December 10, 2011 was the day for Y-100's annual Jingle Ball concert, a night full of today's top pop and rock artists performing. Live from the Bank Atlantic Center in Sunrise, Florida performed huge musical stars such as Pitbull, Demi Lovato, the Script, Kelly Clarkson, LMFAO , and more. Thousands of South Florida music fans came out to watch their favorite musicians perform their top songs during this annual holiday festival.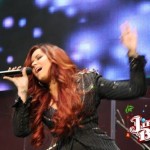 The show opened up with Demi Lovato who came out singing her top songs such as Unbroken, Skyscraper, and My Love is Like a Star.  Following Demi was Brookline Massachusetts' new band, Karmin on a separate stage. The 2 member band came out singing their remake of Look At Me Now, Firework, and more. Foster the People then came out with extreme enthusiasm singing their top single, Pumped Up Kicks. Foster the People also sang Don't Stop(Color on The Walls) causing the whole building to sing along with them.
Back on the second stage came out the love of every teenage girl's life, Cody Simpson. With his acoustic guitar, Cody sang along with his fans in the arena, causing thousands of people to sing along with the young Australian. Following Cody was American Pop and Rock Band Gym Class Heroes. With Miami's own, Travie McCoy, the band sang Top songs such as Stereo Hearts, Billionaire, and Cupid's Chokehold. Next came Y-100's own DJ Mix Cartel playing some tunes before Canadian Pop Artist Avril Lavigne got ready. Once Mix Cartel was over, Avril came out and sang some of her most famous rock songs such as Girlfriend, Skater Boy, and Complicated. Avril and her rocking band shook the arena with her performance.
After Avril came out Irish Rock Band, the Script. The Script came out singing their top singles Breakeven, For The First Time, and More. The band performed terrifically, with Danny O'Donoghue and Mark Sheehan rocking the show. Next came out Cobra Starship on the second stage singing the top hits, You Make Me Feel.., Good Girls Go Bad, and Middle Finger.  Succeeding Cobra Starship was American Idol Winner, Kelly Clarkson. Singing along with the thousands of girls, young and old in the stands, Kelly sang Stronger, Behind Hazel Eyes, Since U Been Gone, and more.
After Kelly came the most interesting performance of the night, LMFAO. Currently holding the #1 song and #11 song in America, LMFAO sang their top songs, such as Party Rock Anthem, Shots, Sorry For Party Rocking, I'm In Miami B*tch, and of course, Sexy and I Know It. Even though Sky Blue was absent, LMFAO with the help of their mascot robot shuffler and their world famous wiggling and shuffling rock the Bank Atlantic Center.
Once LMFAO left the stage, world famous French DJ David Guetta came out and rocked the room. Playing top songs of the day and some of his own with other artist, Guetta changed the tone of the show from a fun atmosphere with LMFAO to a nightclub atmosphere. With Guetta came out Florida's own, Flo Rida. Once Guetta left the stage, Flo came out again singing his top new hit, Good Feeling, while moving around in the crowd on the shoulders of his body guard. After Flo came out the closing act of the night, Mr. 305 himself, Pitbull. Pitbull came out in his suit and shades singing his top hits such as Hotel Room service; Shut it down, Calle Ocho, and Rain over Me. With the crowed with him, he closed the show with his former #1 hit, Give Me Everything. The song was a great way to end a great, star filled night.