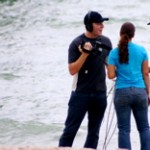 Here's your chance to work on The Rock Star Stories!
 We'll be shooting some  ins and outs,
openings and closings this Saturday morning at
Quiet Waters Park,  Deerfield Beach (Powerline Rd just South of Hillsboro)
from 10am-12pm.
 The park charges $1 to get in and we will be meeting in front of SkiRixen
inside the park.  Wear something cute and fun with no logos please,
band shirts are fine!  
If you want to RSVP call 561-241-9110 or
email us at info@therockstarstories.com.