Benjamin Bear's Lungs is a breath of fresh air
By Alison Sikes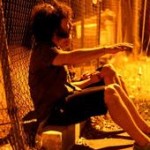 Seattle duo Benjamin Bear's forthcoming album, Lungs, is a breath of fresh air amidst the city's notorious grunge scene.  Self-described as "stargazer", their piano-heavy music is simply profound and stunning. 
 With its use of serene piano harmonies, the first song off of Lungs, "Station Rest Release," is a heart wrenching and yet beautiful melody about heartbreak. Benjamin Bear continues their use of a subdued piano with a dramatic drum line in "Russ", a surprisingly uplifting song about psychological recovery.
Contradictory to its name, "I Just Wish This Could All Be Different" combines angst-ridden piano rock and haunting vocals to create the best song on the album. While Benjamin Button is the only Ben people are currently conversing about, talk will change to Benjamin Bear when their first album finally debuts. Hold your breath until Lungs is released on April 21.