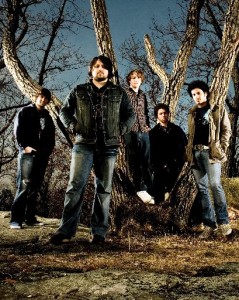 by Melanie Bae
The Dear Hunter, originally a side project of Casey Crescenzo,  has flourished into a full-time gig. Along side Crescenzo are band mates  Erick Serna, Nate Patterson, Andy Wildrick, Nick Crescenzo, and Josh Rheault. Crescenzo was originally in the Boston band Recieving End of Sirens, but in May 2006 Casey began working on The Dear Hunters debut album, Act I: The Lake South, The River North.
When talking to Casey he expressed how he much rather talk about a fictional character, because with a fictional character there is no restrictions. Casey produced Act I himself, and his mother did some of the backing vocals and his brother played the drums. A family's support is always nice to see. By the time Act II: The Meaning of, and All Things Regarding Ms. Leading rolled around, Crescenzo had assembled a fun band, and the album dropped only eight months after Act I. Around the same time Act II was released, the band's fan base seemed to pick up.
They headed out on tour with such bands as: The Format, Boys Night Out, Circa Survive, Saves The Day, Say Anything. Act III: Life and Death was released on June 23rd of this year. While listening to the album it seemed as though it had a reoccurring theme of war; Crescenzo would yet again go into detail about how it is was much easier to write about a fictional character, and that he himself had not known someone or lived through the experiences himself. As one listens to The Dear Hunter you get more than just music, you get a story of a young boy's life experiences. The Dear Hunter had many albums to come, and they are also working on albums inspired by the colors of the light spectrum.
You might be a little confused about how the band could do this; Casey said it is not so much about the color, but what the color brings to your mind and the feelings that emerge when looking at them. There have been rave reviews about The Dear Hunter's live performances. So as they embark on tour this fall with Mutemath, make sure you attend a show near you!