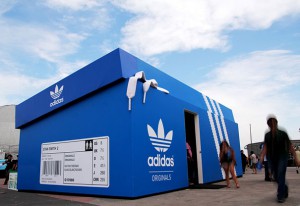 Above is a Adidas pop-up store.
No more stores, no more malls, no more pop-ups???  Can you imagine what that will look like?
By 2025 physical stores as we know them will no longer exist. A new study has reaffirmed Millennials' significant role in disrupting the shopping experience, and the need for retailers to become omnichannel to stay relevant.
According to one expert, early tech adoption is imperative: "By 2025, we will be exposed to a new shopping world in which the value of a physical store will no longer be measured in sales, queuing will not exist, any surface will be a storefront, customers will be able to find and buy any item at any time, and clothing will be shared, tried on virtually, and printed at home."
Printed at home with our 3-D printer?  I'm ready are you?
(Via Chain Store Age)