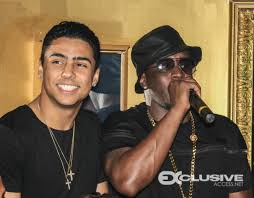 SEAN "DIDDY" COMBS' SON AIMS TO SPREAD NYC INSPIRED SOUND & CULTURE WORLDWIDE
Gifted songwriter and rapper Christian Combs has signed an exclusive recording deal with Bad Boy Entertainment/Epic Records.
'King' Combs, as Christian is known, took to Instagram to express his excitement over being able to spread his New York City-inspired sound worldwide: "Yesterday was the greatest day of my life — it was the day a dream came true. I got signed to Bad Boy and Epic Records. I'm extremely thankful for everything that God has blessed me with and I will never take it for granted. Music is something that's been part of me my whole life. #Epic #Badboy we got this!"
Christian 'King' Combs, the son of Sean "Diddy" Combs and model Kim Porter, was born on April 1, 1998. Inspired by iconic New York City rappers Nas, Notorious B.I.G., Mase, and Puff Daddy, 'King' is one of the founders of rap organization CYN. CYN is a crew of young up-and-coming rappers who make diverse sounds that represent the NYC culture. Stay tuned for news of the first new music to arrive on Bad Boy Entertainment/Epic Records from 'King' Combs!
FOLLOW 'KING' COMBS:
Instagram: @KingCombs
Twitter: @KingCombs