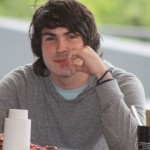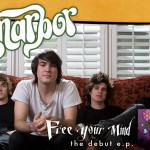 Above;  Slade Anarbor's Lead Singer
by Sharona Feder
Currently on the Take Action Tour with Cute is What We Aim For, Meg &
Dia, Breathe Carolina and Every Avenue, Anarbor is that new Pop-Punk
sound that everyone loves. With catchy lyrics about love, heartbreak
and seemingly important issues, and a melody you'll be humming all
day, this band is not just another fad, they're here to stay. If you
like bands like New Found Glory, Forever The Sickest kids and Fall Out
Boy, you're bound to get hooked on Anarbor.
With their Ep "Free Your Mind", that will be released on March 10th, Anarbor makes it a point
to be all real and only play instruments in their songs that they can
play live. They've got a great dance-pop feel that you wont get sick
of after a week of listening to them.