via Earth Times
So…last year, according to The NPD Group, a leader in market research for the entertainment industry, teens (age 13 to 17) acquired 19 percent less music in 2008 than they did in 2007. CD purchasing declined 26 percent and paid digital downloads fell 13 percent compared with the prior year.
Even in downloading music, the quantity of tracks downloaded from peer-to-peer (P2P)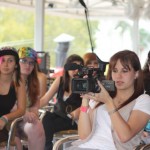 networks, fell 6 percent in 2008. The number of teens borrowing music, either to rip to a computer or burn to a CD, fell by 28 percent.
What does this mean? 32 percent of teens purchasing less digital music expressed discontent with the music that was available for purchase, while 23 percent claimed to already have a suitable collection of digital music. Twenty-four percent of teens also cited cutbacks in overall entertainment spending as a reason for buying fewer downloads.
Hmmmmm we've got enough crappy music already on our ipods right?