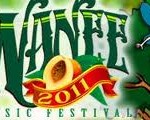 by Jody Vining
Any seasoned music festival veteran knows that large-scale events that gather thousands of people in one place to camp out and enjoy a weekend of music bring with them a certain level of discomfort.  From massive traffic jams that leave you stuck in your car for up to 8 hours (I'm looking at you, Bonnaroo), to scorching heat, and long lines for portapotties, beer, food, and security – music festivals have a way of inducing as much pain as they bring enjoyment.
However, this past weekend I attended a music festival that will forever change my perception of what a music festival can and should be:  The Wanee Music Festival at the beautiful Spirit of the Suwannee Music Park in Live Oak, FL.  This fest essentially removes most of the negatives that come along with the typical music festival and amplifies everything that makes a music festival of this size so much damn fun.
As we pulled up to the festival on Thursday morning it was clear things at this event were going to be different from our prior experiences.  Traffic was light getting in, and we would soon learn that's because we were late to the party.  Even though the festival "officially" started Thursday morning, music acts had started playing as early as Tuesday.  This allows people to arrive a couple of days early, find a choice camping spot, and get the party started a little early – it also ensures there won't be any of those hours-long waits to get in to the venue.  Instead of being lined up in a field to camp behind our cars, the staff at the SOSMP directed us in to the park and told us we could camp wherever we wanted.  We drove through and realized this party was already in full swing – folks we talked to along the way to what would be our campsite had already been there for days.
After driving around the expansive music park for a little while, we settled on camping along the banks of the extraordinarily scenic Suwannee River.  While setting up our camp, the sound of a large group of people hooting and laughing could be heard echoing across the bank of the river – so we obviously had to check out what was going on.  After walking a few minutes down the river trail, we found a large beach with dozens of people laying out enjoying the sun, swimming in the river, and enjoying a massive slip and slide built from camping tarps and an intimidatingly high rope swing tossing festival attendees in to the dark Suwannee River water.  That's right – a river, a beach, rope swings, and a slip and slide.  This festival is definitely VERY different.  We were already having a blast, and hadn't even made it to the stages yet.
A short walk down River Rd (the main road that runs through the park) brought us to the main venue at the Wanee Music Fest:  The Peach Stage.  This is a large stage with a giant field that provides great sight lines and plenty of room to set up blankets and chairs.  We saw incredible performances at the main stage from Widespread Panic, The Allman Brothers Band, rock legend Robert Plant and the Band of Joy, DJ Logic (with a guest appearance by John Popper), and loads of other incredible acts.
However, one of the biggest surprises for me, was the smaller venue at the festival:  The Mushroom Stage.  Set amongst the oak trees and covered by a natural canopy of trees and moss, this natural amphitheater is quite possibly one of the most beautiful places I've ever seen live music performed.  The ambience and intimacy this venue provides seems to bring out the best in the acts that perform at it.  Popular acts like Keller Williams, John Popper, Hot Tuna, and Galactic brought the house down while less familiar acts such as Big Gigantic and the Soul Rebels certainly made a bunch of new fans.
When it was time to pull the stakes and depart the SOSMP – I found myself really not wanting the leave.  The people that attend this fest are some the of the warmest,  friendliest music fans I've ever met, and the setting is one of the most beautiful places I have ever seen.  If you've never attended the Wanee Fest before and you enjoy music festivals you should definitely check this one out next year.  But be warned:  it might ruin all other music festivals for you.
——–