Interview with Cyndi Graves Performance Director Sesame Street Live!!!!
by Jody Vining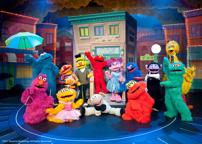 Listen to the interview
We were so lucky to interview Cyndi Graves who is the Performance Director for the Vee Co., producers of Sesame Street Live.
Sesame Street live performs this weekend 9-27 to 9-29 at the Parker Playhouse in Ft . Lauderdale, Florida.
Cyndi tells us that she wears many hats for the Vee Company.  She is the stage manager, in charge of rehearsals, auditions, performer's notes, publicity events.  She calls the show and the action for the show.  There are actually 3 Sesame Street Live productions and there are at least one show, if not all 3 shows touring all school year long.  She has a month off in the summer but is busy all the rest of the time.   These shows are USA based but sometimes another country will put on an extended run of one of the Sesame Street shows with their own actors.
As far as this show, "Can't Stop Dancing" appeals to kids, parents and even grandparents.  Sesame Street is one of the kinds of shows that everyone enjoys.  There are 20 characters, Cyndi explained, Bert and Ernie, Oscar the Grouch, Big Bird  and some new characters such as Abby Cadabby and Murray.  Murray acts as the emcee and leads us in counting and the word on the street.  Abby Cadabby loses her magic wand in the show and everyone is looking for it.  In the end she tells us, Elmo finds out he doesn't need the magic wand or Abby Cadabby,  and he can do it himself.
There have been 44 seasons of Sesame Street on television.
If you are interested in learning more about live performances and Sesame Street Live, check out the Parker Playhouse this week from the 27th to the 29th.  Here's a link for tickets.
Thanks Cyndi!