by Melanie Bae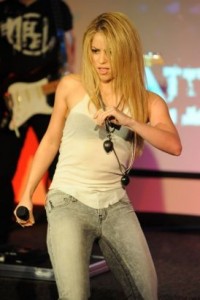 Jingle Ball 2009 was overflowing with a unique variety of artists. The artist were ranging from Flo Rida to Colbie Callet. It was hosted by Leighton Meester and Adam Lambert. The whole show was kicked off with Leighton Meester entering singing "Good Girls Go Bad" the hit single by Cobra Starship which Leighton had appeared on. Miss. Meester then followed the intro with her single "Somebody To Love," but was cut short do to some "technical difficulties."
Jason Derulo, who has the hit song "Whatcha Say," was given his chance to sing two songs from his latest self tittle album, and his performance was one worth sticking around for. Where can I begin with Flo Rida? All you could do is " throw your hands in the air a-air." Flo Rida also felt it was necessary to strip and give all his clothing to the audience, and his jacket also caused some bit of commotion on the floor. 3OH3! was undesirable, in a good way. They played Starstrukk, Don't Trust Me, and Don't Dance. The hilarity behind this was that the whole crowd sat down during Don't Dance, must be because it has never been a single, but 3OH!3 was fantastic.
The dance party was however put to a halt when Colbie Callet began to perform. She has a beautiful voice, but the aimless wondering around the stage and the lack of enthusiasm brought down the hype and excitement the other performs had built up. Adam Lambert sang a bit of acapella in between acts, and it was breathtakingly beautiful and pure. LMFAO was my favorite of the night. They brought such excitement to the crowd and their energy was contagious.
Timberland walked on stage with a orchestra tape playing loudly, and you could tell he thought he was creating a "epic" moment. Timberland was talking through some back-up tapes his DJ was playing, but he did bring Brandi and JoJo to the stage which was a nice surprise. Jordin Sparks was one of the closing acts, and no doubt that girl had the best vocals of the night. Her voice was flawless, and the intensity she brought to her performance brought the crowd to their feet.
The closer of the night was one and only Shakira who shook her body awkwardly and sang some song as well as she could as she danced. All in all the show was fun and the performers did a great job.