Rock: the Sunstreak – Once Upon A Lie
by Marissa Liebl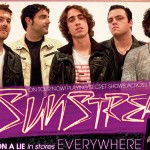 Being from New York myself, the Sunstreak is one of the most talented rock bands that I have heard from the New York area. This band is made up of 5 members: Gary Foster, David Schuler, Tony Rebis, Jack Flynn, and Jason Sarkis from Rochester and have been bringing their own style of music to the world since the year 2005. Their music is completely mind-blowing and will leave you wanting to hear more. The sound is catchy and keeps you entertained. The members of this band produce a great sound that sweeps you off your feet. The groups music has shown that they have worked hard to get where they are now and that nothing will stop them to achieve their goals.
The lyrics of the songs on the album can be repetitive, yet their music seems to reflect on their feelings of having love and losing it.
The band has performed at Vans Warped Tour in the summer of 2006 and sold over 25,000 records within 2 months. They posted on the Billboard charts without a distribution deal and they were the second band in history to do this.
It has dawned on me that this band produces overall enjoyment for their fans and their progress has proved their greatness and that they can go far in the music industry.
I solely feel that this group can become one of the best rock bands in history if they set their minds to it and follow their dreams.