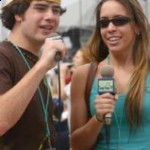 Our own major music event takes place from April 27 to May 1 on the water in downtown West Palm Beach.  Over the past 10 years Swept Away Tv has covered many artists and an incredible number of great live performances.  This year's lineup is amazing!  Take a look!
SunFest, Florida's largest music, art and waterfront festival, announces national acts scheduled to headline at the 29th annual event being held April 27-May 1, along one of the most scenic sections of Flagler Drive in downtown West Palm Beach. National acts scheduled to perform include Jason Mraz, Earth, Wind & Fire, MGMT, Sublime with Rome, Cee Lo Green, Jeff Beck, Taking Back Sunday , Gregg Allman, Neon Trees, The Avett Brothers,  O.A.R., Styx,  Mike Posner, Sick Puppies, Never Shout Never,  Prince Royce,  Cherry Poppin' Daddies, Toad the Wet Sprocket, Anberlin, The Supervillains, Preservation Hall Jazz Band, Brooke Fraser, and Ziggy Marley. More entertainment to be announced as confirmed.
"SunFest has become known for putting together a diverse line-up and this year we have truly delivered," said Paul Jamieson, executive director of SunFest. "From Pop and Reggae, Classic and Alternative Rock, Jazz and Latin, we have pulled together an exciting lineup.  We have an incredible setting along the waterfront of downtown West Palm Beach. It's a music experience like no other available to festival goers and music lovers."
Florida-based reggae group The Supervillains will perform Wednesday evening, April 27 on the Bank of America Stage. In their twelve-year existence, The Supervillains have grown from hometown heroes in St. Cloud, Orlando to one of the most recognizable names in reggae.
Swept Away Tv favorites Ska-punk band Sublime with Rome will perform Wednesday evening, April 27 on the Bank of America Stage. Sublime is known for their rhythm section, funky drumming and bass lines.  In 2010, founding members of Sublime, drummer Bud Gaugh and bass player Eric Wilson announced they would officially take the stage once again with new front man, singer/guitarist Rome Ramirez. After 14 years the new Sublime with Rome reintroduced themselves and Sublime's music to fans across the country by energizing crowds with old Sublime favorites like "Santeria," "What I Got," and "Wrong Way." The band has moved ahead with new material, including their new song "Panic." Sublime with Rome is currently working on a debut album slated for release sometime in 2011.
Folk rock band The Avett Brothers will perform Wednesday evening, April 27 on the Tire Kingdom Stage. Noted in 2009 Rolling Stone magazine as artist to watch, The Avett Brothers are known for rowdy, energetic live shows and honest lyrics. Their sound has been described as having the "heavy sadness of Townes Van Zandt, the light pop concision of Buddy Holly, the tuneful jangle of the Beatles, and the raw energy of the Ramones."  The Avett Brothers have opened for Dave Matthews Band and John Mayer among others. Their latest album I and Love and You was produced by legendary producer and talent scout Rick Rubin.
Swept Away Tv interviewee  Jason Mraz will perform Thursday evening, April 28 on the Bank of America Stage. Mraz is best known for the single "I'm Yours" off of his third studio album We Sing, We Dance, We Steal Things, which debuted at #3 on the Billboard Hot 100 charts in 2008. This two time Grammy award winner is known for his clever, observant lyrics and strong engaging pop melodies. He encourages fans to record his live performances which often contain an element of surprise and the showcasing of a new song never heard by the public before.
For the hip hop fans Grammy-award winner Cee Lo Green will perform Thursday evening, April 28 on the Tire Kingdom Stage. Cee Lo Green hails from Atlanta, Georgia and is a singer, songwriter, rapper and producer who has a knack for continually reinventing himself. Cee Lo began his career as part of the renowned and influential hip hop group Goodie Mob prior to breaking out on his own in 2002. Green released two solo albums before becoming part of the superstar duo Gnarles Barkley with alternative music producer Danger Mouse.
Another Swept Away Tv interviewee the band Anberlin will perform Friday evening, April 29 on the Bank of America Stage. Hailing from Orlando, this mainstay in the alternative rock scene is touring in support of their fifth studio album. Their hits include "Impossible," "Dark Is the Way" and "Light Is a Place." Led by the soaring vocals of Stephen Christian, the positive-thinking Anberlin also included Joseph Milligan (guitar), Nathan Young (drums), Joey Bruce (guitar), and Deon Rexroat (bass), and presented an alternative pop/rock sound that, while inflected with the earnestness of emo, was closer to the mature stylings of Third Eye Blind.
Another favorite Taking Back Sunday will perform Friday evening, April 29 on the Bank of America Stage.
Taking Back Sunday is one of the leading groups on contemporary punk scene.  The band boasts 3 gold albums, two of which hit the top five including a #2 debut for 2006's Louder Now.
Cherry Poppin' Daddies will perform Friday evening April 29 on the Tire Kingdom Stage.
Gregg Allman will perform Friday evening, April 29 on the Tire Kingdom Stage. Gregg Allman is both a founding member of one of the biggest American bands of all time, the Allman Brothers Band, and a critically acclaimed solo talent. In addition to his singing and playing, Allman has written many memorable hits, including the classics "Midnight Rider," "Dreams" and "Queen of Hearts." In January 2011 the Southern rocker released his first solo album in 14 years Low Country Blues, marking Allman's return to the front ranks of American music.
Mike Posner will perform Friday evening, April 29 on the FPL Stage. American singer, songwriter and producer Mike Posner got his music career going when he self-released two mix-tapes and signed a record deal with J Records while still attending college at Duke University. He returned to school to finish his degree before launching his debut album 31 Minutes to Takeoff in August of 2010. The album includes the Billboard Hot 100 Top 10 single "Cooler Than Me'' as well as his second single "Please Don't Go."
Ziggy Marley will perform Saturday afternoon, April 30 on the Bank of America Stage. Marley is the oldest son of reggae legend Bob Marley. Ziggy is a five-time Grammy award winner best known for singles such as "Drive," "True To Myself," "People Get Ready" and "Tomorrow People." His next album is tentatively entitled Wild and Free and is slated for release in the summer of 2011. His latest release "A Fire Burns For Freedom" is the second song released in the Wild and Free Series, and comes on the heels of his first release, "Africa Land." This song supported a historic moment, Africa's hosting of the 2010 World Cup for the first time.
Never Shout Never will perform Saturday afternoon, April 30 on the Tire Kingdom Stage.
One of 2010's most buzzed about acts Never Shout Never is fronted by 20 year old Christopher Drew Ingle.
Alternative Rock group Toad the Wet Sprocket will perform Saturday afternoon, April 30 on the FPL Stage. The band is best known for their hit singles "All I Want" and "Walk on the Ocean" off their 1991 certified platinum album Fear.  To this day, their mellow, melodic folk-pop sound makes them one of the most successful bands of the 90's. In December 2010, the band announced their official reunion as a full-time working band. They are currently writing songs for their first studio album since their 1997 release Coil.
MGMT will perform Saturday evening, April 30 on the Bank of America Stage. MGMT is an American psychedelic-rock band based in Brooklyn, NY. This electric brainy pop group with psychedelic overtones and unusual pop structures is best known for their singles "Kids," "Time To Pretend" and "Electric Feel." MGMT was nominated for the 2010 Grammy Award for Best New Artist.  Their second album Congratulations was released in 2010.
Styx will perform Saturday evening, April 30 on the Tire Kingdom Stage. The group hails from the south side of Chicago and is one of the most successful "arena rock" groups of all time. They have performed more live since '99 than all of the previous years of their career combined. Styx has sold more than 35 million albums worldwide and is one of the few bands to have had three top ten songs in three different decades, the 70s, 80s, and 90s. The band is best known for hit songs such as "Come Sail Away," "Mr. Roboto," "Babe," "The Best of Times," and "Show Me the Way."
Another interviewee from 2009 The American rock band O.A.R. will perform Sunday afternoon, May 1 on the Bank of America Stage. O.A.R. (originally known as Of a Revolution) is well known for their unique concert performances in which the band often creates variations to songs making it rare to hear an O.A.R. song played the exact same way twice.  In 2008, "Shattered (Turn the Car Around)" the first single off their sixth studio album All Sides, peaked at number 2 on the Top 40 charts and was named one of VH1's top videos of that year. O.A.R.'s reputation as being one of the top live bands performing today has led to them selling out such venues as New York City's Madison Square Garden.
And lately of the Buzz Bake Sale 2010, Australian rock trio Sick Puppies will perform Sunday afternoon, May 1 on the FPL Stage.
Neon Trees will perform Sunday evening, May 1 on the FPL Stage. The band first started playing under the name Neon Trees in late 2005 after the keyboard/vocalist Tyler Glenn was inspired by the lighted trees on the In-N-Out Burgers signs of the popular west coast burger chain. Like their name, Neon Trees are a combination of slick electric pop, sturdy organic rock and hook-happy new wave whose hard-hitting anthems speak of adolescent angst of love lost and found. Their first single "Animal" off their first studio album Habits climbed to #13 on the Billboard Hot 100.
Grammy-award winner Jeff Beck will perform Sunday evening, May 1 on the Tire Kingdom Stage. Beck helped revolutionize rock music and inspire countless individuals with his unique approach to playing the guitar. He is known as one of the most influential guitarists in the history of rock music and has recognized Les Paul and John McLaughlin as being major influencers on his sound.
Multi-day tickets are the best way to save on tickets!
Best Deal – March Moneysaver – 5 Day Ticket Promotion for $54 When this deal is gone, it's gone, buy before 5 p.m. on March 31.  To purchase tickets online:
http://www.sunfest.com/ticketpromotions


2011 FESTIVAL DAYS/HOURS
Wednesday, April 27: 5-10 pm
Thursday, April 28: 5-11 pm
Friday, April 29: 5-11 pm
Saturday, April 30: Noon-11 pm
Sunday, May 1: Noon-9 pm
THE VERIZON WIRELESS FIREWORKS SHOW
The Verizon Wireless Fireworks Show closes the Festival with a bang on Sunday, May 1 at 9 p.m.
###