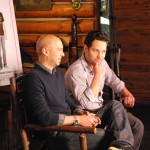 Review by Nick Morrison
If you're a guy, go get a Fife! No your eyes didn't just deceive you, that says Fife. In "I Love You, Man", the irresistible companionship between Peter Klaven and Sydney Fife (portrayed by Role Model's Paul Rudd and Forgetting Sarah Marshall's Jason Segel) is enough to draw you in and care for two likeable losers. The chemistry between the two gives the viewer a real sense of friendship. Both actors carefully assess their characters and turn what may feel like cliché type roles into their very own original performance.
The laughs are present throughout and the film even delivers some laugh out loud moments. While it is vulgar, it is used within the boundaries of this type of movie.  You may feel like you are easily watching another Judd Apatow film, and while his usual players in Paul Rudd and Jason Segel star, it is director John Hamburg who steps in and takes a script in which he co wrote and crafts one of the funniest comedies to come out so far this year.
The dialogue is extremely witty and the delivery of the leads and the supporting actors such as SNL'S Andy Samberg,  Juno's J.K. Simmons, The Cone Head's Jane Curtin, My Name is Earl's  Jaime Pressley, and Actor/ director of Iron Man; Jon Favreau. Everyone has memorable lines to work with and when you leave the theatre you are bound to use some of the terms that are used in the movie. This is the kind of movie that entertains, while elevating standards for raunchy comedies.
I Love you; Man is full of heart and may just be the type of movie that can put a big old smile across your face. Give this one a try and I promise it will not disappoint because to tell you the truth… I loved it, man!